As times have changed and with the advent of COVID-19 and its drastic measures, a topic of debate has arisen that for many was part of the background: mental health and well-being at work.
Well-being at work is the term by which we refer to a situation of balance between all the aspects that condition the opinion that an employee forms about his or her work environment. The greater the sense of well-being, the better the employee's predisposition to fulfill his or her duties.
According to the latest Mental Health at Work Report conducted by Mind Share Partners, 91% of respondents currently believe that a company's culture should support mental health. In 2019 it was 86%.
Psychosocial risks and work-related stress represent today a critical challenge for companies, not only for the well-being of individuals but also for the economy and productivity of the companies themselves.
Table of Contents:
1. Well-being in organizations.
Industrialization in our environment is advancing day by day to a great extent and with it the workload and psychosocial risk; so it is there where new methods are proposed to make this space not become an unappetizing and risky environment for the worker or that is only based on productivity. The work environment has become more important over the years since it is a space where employees spend more time of their days, which implies creating strategies that make this space a more enjoyable one.
A healthy and safe environment allows for mental health, job security and thus ensures the productivity and quality of life of employees.
The WHO (World Health Organization) defines a healthy work environment as one in which workers and managers collaborate to use a process of continuous improvement to protect and promote the health, safety and well-being of workers and the sustainability of the workplace.
A poor work environment is influenced by certain factors: work overload, lack of safety, job instability and psychosocial risk caused by stress. The latter has been on the rise in recent years thanks to the confinement as a result of COVID-19. Another major factor that can affect the work environment is poor communication between members of the organization, causing discord and misunderstandings among workers.
It is necessary to understand well-being as a fundamental need for the human being, therefore, it can only be achieved by attenuating the situations that prevent the person from fulfilling his/her work, encouraging positive emotions at work to help reduce or eliminate personal and group problems by means of a better attitude with feelings such as joy, faith, enthusiasm, and many others that could predispose us better to various conflicts.
2. Factors influencing well-being at work.
The concept of well-being is related to the quality of work life, which seeks to transcend integral human development in the organization, due to concerns about the unrewarding nature of work and a growing dissatisfaction with employment.
It is then necessary to talk about categories such as: work overload, Burnout syndrome and engagement, concepts related to work wellbeing, recognizing that within it there are other phenomena to be taken into account.
Work overload is when the worker is exposed to high levels of stress due to overwork, and feels how their physical and mental health is gradually affected.


As for Burnout Syndrome, the literal dictionary definition is "to fail, become exhausted, or become worn out due to excessive force, excessive demands on energy or resources"; thus incorporating a colloquial term into scientific language.


Engagement is defined as a positive, work-related motivational construct that is characterized by vigor, dedication and absorption. ''Vigor'' is represented by high levels of energy at work, persistence, and a strong desire to put effort into work. ''Dedication'' is manifested by high levels of work meaning, enthusiasm, inspiration, pride and challenge. Finally, ''absorption'' is characterized by concentration and satisfaction in performing the work.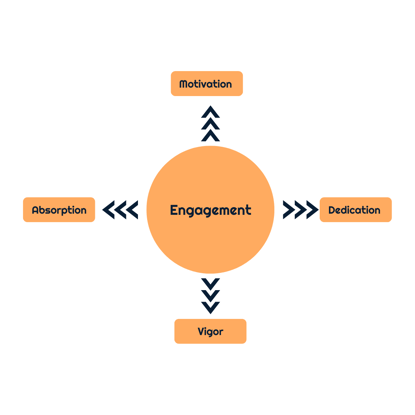 When we talk about occupational health or occupational welfare, we can infer that it refers to the situation of physical, mental and social security in which the collaborators of an organization are, with the purpose of foreseeing control measures aimed at promoting welfare and reducing or eliminating the risks of diseases or accidents. Taking into account that physical and mental health contribute to having quality of life and even more so in the work environment, a good state of mental health allows the adequate development of activities at work.
This is why in recent times organizations have increased their concern to guarantee the labor and social well-being of their employees. There is undoubtedly a constant concern to promote and maintain a high degree of physical and mental well-being for employees in their activities.
Today's employees are not only looking for benefits in terms of economic retribution, but rather they expect retribution that is reflected in their physical and mental health.


3. Benefits of taking care of health and well-being at work in the company.
We dedicate a third of our lives to the world of work. That is why it is essential that we feel comfortable, physically and emotionally, in our work. In this way, health problems will be reduced and we will be able to perform our tasks in a pleasant and appropriate manner.
This is where human resources must act. HR managers have shown that they are essential for the company, as they have the great responsibility of building a healthy work environment and helping to keep workers physically and mentally healthy.
Workplace wellness is one of the keys to a productive, motivated and committed team.
It will not only be positive for the worker to be happy, but also for the company, since it will be able to obtain a great amount of benefits that otherwise it will not get, such as:
Reduced absenteeism and stress.
More productive and motivated workers.
Increased creativity and development of staff capabilities.
Fewer people are leaving the company.
Positive work environment and better interpersonal relationships at all levels.


4. Mental health and technology, how to help your employees.
Technological advances in recent times have allowed companies to adapt to changes and allow them to provide their employees with benefits to maintain and cope with their mental, physical and emotional health.
There are factors such as embarrassment, misinformation or lack of communication within organizations that may limit employees from asking for help if needed. Technology has definitely helped to change this, with solutions that can be at hand from a computer or cell phone.
There is access to online therapies that employers can offer to their employees, this helps to prevent the appearance of possible disorders that can trigger risk factors in the work environment, such as stress, conflicts between employees, lack of motivation, failure to meet goals or workplace violence.
The speed and privacy that this type of alternative offers to employees has helped certain people who may be reluctant to go to a professional, as well as helping to optimize employees' time.
Having experts related to work wellness and mental health just a click away makes access to this service more common.
In this sense, technology also helps us to:
Know the opinion of employees and establish a culture of active listening in the organization. Knowing the status of employees and the work environment.

Development of training and development plans

Effective internal communication, especially when we are in distributed or hybrid environments.
Performance evaluations to detect certain problems and be able to solve them.
5. 8 ways to maintain happiness at work.
There are several situations for which human beings must be linked to work life; either to meet needs, for passion or obligation. The truth is that whatever the reason, meeting these demands at the price of an unhappy life at work is ultimately very high.
Well-being at work is a primary need for the achievement of the objectives of any organization, which is why the environment in which the employee lives and works is a determining factor in the productivity and quality of the work he/she performs.
There are keys that can help maintain employee happiness and a high level of well-being in the workplace:
Mental health as a priority.
HR as a mediating figure, playing the role of a bridge between the employee and the employer.
Recognizing the signs, an essential way to take care of employees' mental health.
Generate confidence, optimism and motivation among employees, either through talks, feedback from employers and/or supervisors.
Offer motivational lectures to employees to maintain dedication at work.
Include in the retribution to employees a good support system that allows them to face crises or difficult processes that can be generated.
Break the silence, offer an environment where the employee can communicate properly and feel confident to talk about issues related to the work environment.
Adequate workplace.


6. Labour welfare programs
A work wellness program refers to a group of measures or actions implemented by a company with the aim of improving the quality of work life of its employees. It therefore includes all the measures and protocols that the organization will put in place to improve emotional well-being at work, and their subsequent analysis and improvement.
This program works in three dimensions or facets: the employee's professional, personal and family development.
Many studies have shown that a good workplace wellness program improves the lives of employees and makes them more motivated.
In relation to productivity, the University of Warwick (2014) concluded that happy workers are up to 12% more productive. But there are companies such as Google, which can achieve much higher performance levels (37 %).
How to establish a wellness program in companies?
Every company, within its vision, must include a good wellness program for its employees to achieve real objectives and a good working environment.
Some of the factors that can be taken into account to achieve a good wellness program are:
Aim to reduce employee turnover.

Create indicators that can measure their satisfaction.

Perform a preliminary diagnosis of the level of employee motivation.

Analyze and follow up on employee motivation.

Analyze improvement alternatives, and decide whether the selection process is internal or external.

Design a labor welfare program where the beneficiaries are specified, in which phase it will be carried out, what they will obtain, schedule of activities to be worked, etc.